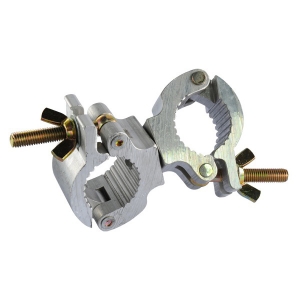 Swivel Coupler
---
Swivel Coupler

Purpose: Grandhome Scaffold Enterprise's fixed swivel coupler plays a vital role in ensuring the stability and rigidity of scaffolding structures. By connecting two tubes at a right angle, it enhances the safety and structural integrity of scaffolding systems.

Material: These fixed swivel couplers are crafted from top-quality aluminum, known for its exceptional durability and lightweight properties. The use of aluminum ensures that the couplers can withstand the demanding conditions of construction sites while providing extended service life.

Feature: One of the standout features of Grandhome's fixed swivel coupler is its ability to simplify scaffold assembly. Unlike traditional methods involving drilling, nuts, and wedges, these couplers offer a hassle-free alternative for custom scaffold construction. They facilitate quick and straightforward mounting and dismounting, saving time and reducing complexity in scaffold assembly.

Performance: Thanks to their premium materials, Grandhome's fixed swivel couplers are renowned for their reliability and robustness. They not only endure the test of time but also excel in enhancing scaffold stability and safety, making them the preferred choice for construction projects.

Why Choose a Grandhome Scaffold Enterprise Fixed Swivel Coupler?

Exceptional Quality: Our fixed swivel couplers are made from premium aluminum, ensuring their durability and longevity. This quality material provides a cost-effective solution as the couplers have an extended service life, reducing replacement and maintenance costs.

Simplified Assembly: The convenience offered by our fixed swivel couplers significantly simplifies scaffold assembly. They eliminate the complexities associated with traditional methods, making them a practical choice for a wide range of construction projects.

Reliability and Durability: Grandhome's fixed swivel couplers are built to withstand the rigors of construction sites, ensuring long-lasting performance and safety. Their use of high-quality materials guarantees the structural integrity and safety of scaffolding systems.
---