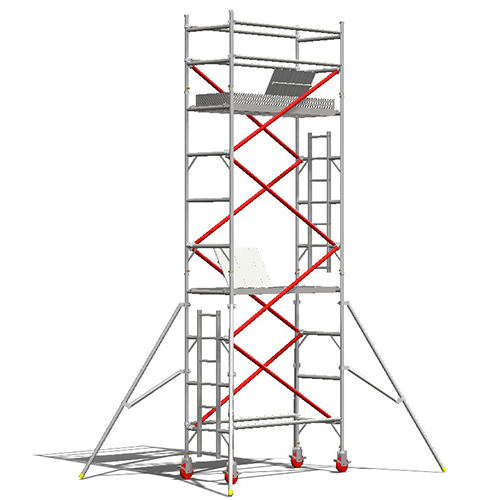 Single Width Tower
Special Features of Grandhome's Aluminum Scaffold Tower
Certified compliance to BS EN 1004 : 2004
Comes with Singapore MOM Certificate
12 Years Warranty on Manufacturing Defects
Made with Grade 6082-T6 Aluminium
Standard Components are interusable in Single Width, Double Width and Easy Access Ladder Towers
Height Flexibility with 5 Different Frame Heights Available
Free In-House Training
AVAILABLE FOR RENTAL
SIZES
Length x Width
Platform Height
Size: L 2000mm x W 850mm
1.22m
1.79m
2.36m
2.93m
3.5m
4.07m
4.64m
5.21m
5.78m
6.35m
6.92m
7.49m
8.06m
8.63m
9.2m
9.77m
10.34m
---
Mobile Scaffold Tower

Purpose: Grandhome Scaffold Enterprise offers a versatile and indispensable asset for the construction industry in the form of mobile scaffold towers. These temporary structures are designed with wheels or casters, making them easy to transport across job sites, ensuring flexibility and convenience.

Feature: The exceptional stability provided by Grandhome's mobile scaffold tower is a key reason to opt for this solution. Unlike traditional ladders, these towers can stand alone, eliminating the need for leaning against another structure for support. This feature enhances worker safety at heights.

Application: Grandhome single width mobile towers offer a secure means of working at various heights and in diverse environments. Whether your project is indoors or outdoors, a mobile access tower is a versatile solution.

Structure: These mobile scaffold towers feature a cross-beamed vertical structure similar to traditional scaffolding, ensuring robust structural integrity. Workers can safely handle heavier equipment and tools on the platform. Guard rails also provide a protective barrier, reducing the risk of objects hitting the tower during accidents.

Certification: Grandhome is dedicated to ensuring safety and quality. Our mobile scaffold towers are certified to comply with BS EN 1004:2004 and come with Singapore MOM Certificates. They also include a 12-year warranty on manufacturing defects. Crafted from Grade 6082-T6 Aluminium, our towers offer height flexibility with five different frame heights available. We provide free in-house training and offer rental options to suit your project's needs.

Why Choose Grandhome Scaffold Enterprise Mobile Scaffold Tower?

Certified Compliance and Warranty: Grandhome's mobile scaffold towers come with certifications and a 12-year warranty, assuring safety and quality.

Material Durability: Crafted from Grade 6082-T6 Aluminium, our towers ensure durability, making them a reliable choice for construction projects.

Height Flexibility: With five different frame heights available, our mobile scaffold towers offer height flexibility, catering to various project requirements.

Training and Rental Options: Grandhome provides free in-house training, ensuring safe usage of our products. Additionally, we offer rental options for added project flexibility.

Diverse Range of Options: Choose from various types of mobile scaffold towers, including single width, double width, double width easy access ladder scaffold towers and mini snap towers. We have a solution to elevate your projects safely and efficiently, no matter your specific requirements.
---
Special Features of Grandhome's Aluminum Scaffold Tower
Certified compliance to BS EN 1004 : 2004
Comes with Singapore MOM Certificate
12 Years Warranty on Manufacturing Defects
Made with Grade 6082-T6 Aluminium
Standard Components are interusable in Single Width, Double Width and Easy Access Ladder Towers
Height Flexibility with 5 Different Frame Heights Available
Free In-House Training
AVAILABLE FOR RENTAL
SIZES
Length x Width
Platform Height
Size: L 2000mm x W 850mm
1.22m
1.79m
2.36m
2.93m
3.5m
4.07m
4.64m
5.21m
5.78m
6.35m
6.92m
7.49m
8.06m
8.63m
9.2m
9.77m
10.34m