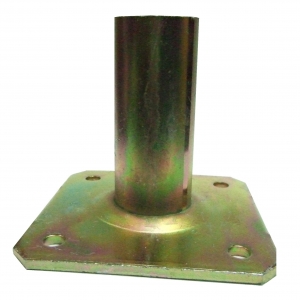 48.6MM Base Plate
Dimensions
GH155 48.6mm Base Plate
GH155A 42.7mm Base Plate
---
Scaffolding Base Plate

Dimensions: Recognizing the diverse needs of construction projects, Grandhome Scaffold Enterprise offers two dimensions of base plates: the 48.6mm Base Plate and the 42.7mm Base Plate.

Material: The Grandhome scaffolding base plate is made of the finest steel.

Sturdy Foundation: Scaffolding base plates act as a strong foundation vital for scaffold structures providing a secure and level foundation for scaffolding erection.

Safety Assurance: Grandhome Scaffold Enterprise's base plates are heavy-duty and essential which ensures stability and safety within scaffolding systems.

Why Choose Grandhome Scaffold Enterprise Scaffolding Base Plates?

Stability and Safety: The primary function of Grandhome's scaffold base plates is to maintain scaffold stability. When installed at the base of scaffolding systems, they evenly distribute the load, preventing any wobbling or tilting. This stability is paramount for the safety of work crews and the protection of structures, ensuring accidents are prevented.

Variety for Versatility: The variety of dimensions of scaffolding base plate at Grandhome allows you to select the perfect base plate to fit your scaffolding system, ensuring a secure and customized solution that caters to your project's requirements.

Quality Materials for Longevity: Our scaffolding base plate is meticulously crafted from high-quality steel, guaranteeing their longevity and resistance to wear and tear. These robust materials are built to endure the demanding conditions of construction sites, providing a reliable foundation for your scaffolding that will last over time.

Efficient Load Distribution: Grandhome's scaffolding base plate distributes the weight of scaffolding systems across a larger surface area, effectively preventing soil or floor damage. This feature is essential for preserving the integrity of the working environment, ensuring a durable and protected base.

Ground Protection: Our base plates act as a protective layer between the scaffold and the ground or floor beneath. This protection prevents any damage, maintaining a safe and undamaged working environment.
---
Dimensions
GH155 48.6mm Base Plate
GH155A 42.7mm Base Plate